MPavilion 2017 October recap—Our opening month in photos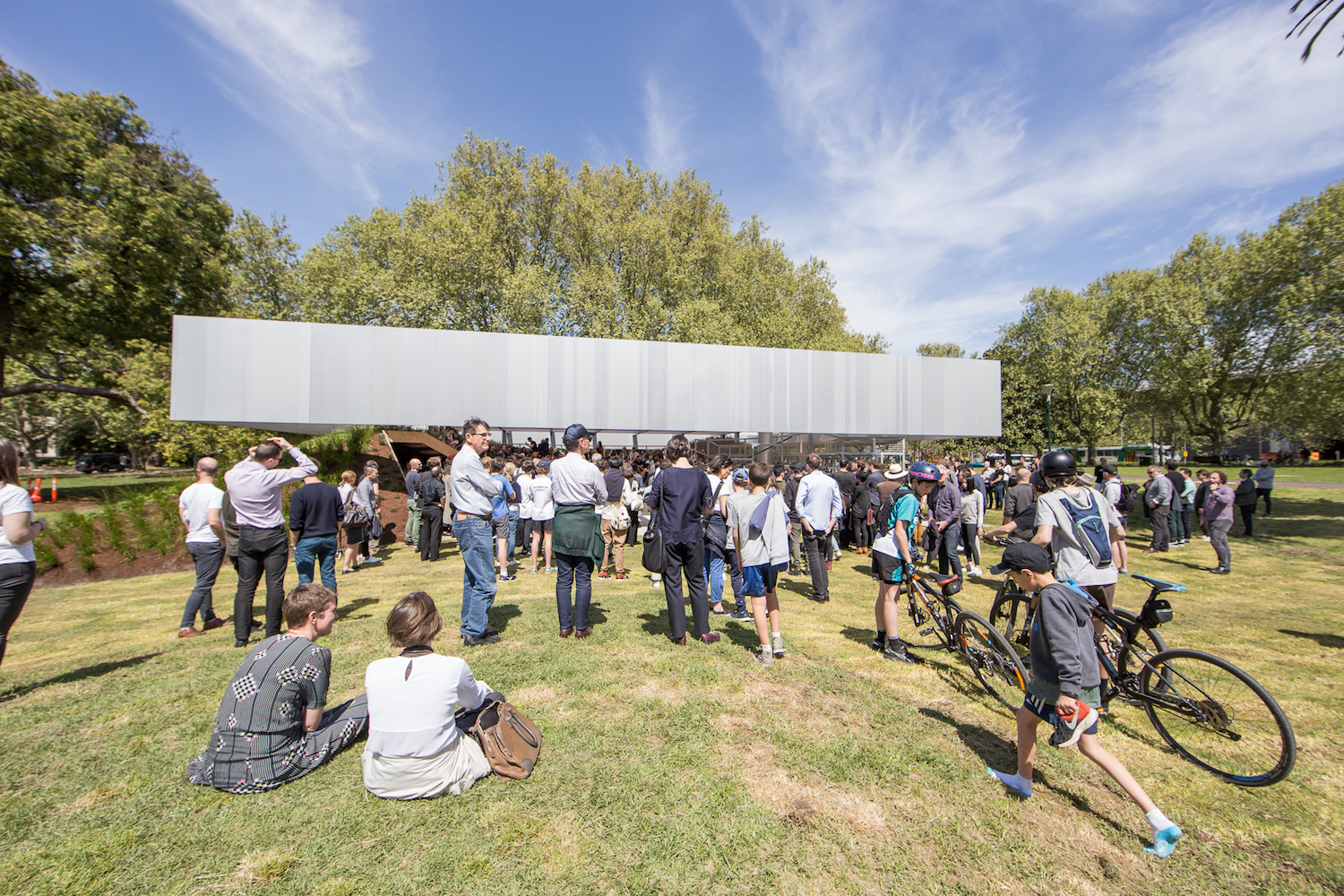 Photo by Bec Capp
And just like that, the first month of MPavilion 2017 is a wrap! October was positively action-packed—from the opening address by Rem Koolhaas and David Gianotten of OMA at our very first event of the season, to MTalks with Virginia Trioli, Jack Self, Monique Webber and Boon Wurrung elder N'arweet Carolyn Briggs. View all the photos over at the MPavilion Facebook page, or scroll through a sneak peek below.
Between talks on place, architecture and culture, we also squeezed in morning meditations with the team at A—SPACE, dog meets with Tom + Captain, some thought-provoking game-play with Singaporean artist Sam Lo, and an extravaganza of live music performances from Philip Brophy to Sarah Mary Chadwick and Sweet Whirl. Why not take a trip down memory lane and read more about our opening week?
The second half of October saw MPavilion 2017 transformed time and again by a host of panels, performances and participatory events—the nimble OMA / Rem Koolhaas and David Gianotten-designed amphitheatre proving endlessly flexible and equipped to accommodate anything we throw at (or in) it. So, throw we did! We opened the rotating tribune up for a lively conversation between celebrated Albanian artist Anri Sala and Shepparton Art Museum director Rebecca Coates; hosted the launch of Assemble Papers 'Metropolis' issue; met with Melbourne-based design practice No Clients to think about the flag as a symbol replete with meaning; and looked to the future of Australian housing models with panel discussions hosted by Open Journal and Rory Hyde and Philip Goad.
October also saw us welcoming the first instalments of some of our 2017/2018 recurring events, including the MMeets series 'A stage for new parenthood' and the 'Bakehouse Sessions: Secret rehearsals' held in collaboration with Melbourne's iconic Bakehouse Studios. Speaking of music, when it wasn't the murmurs of debate and discussion emanating from MPavilion 2017, the Queen Victoria Gardens were awash with sounds of celebration and resistance from some of the country's most exciting musical acts.
Over a bumper October weekend, we celebrated the diversity of our community in tandem with dazzling performances from Totally Mild, He Cries Diamonds at the Love is Love picnic, and exciting new musicians and singers from Multicultural Arts Victoria's State of Culture music program at the Melbourne Festival closing event 'Our Place, Our Home'. We rounded out the month-long festivities with vibrant performances from the Australian String Quartet and an awe-inspiring lineup at VoiceFest 2k17, featuring local luminaries REMI, KG and many more.
With November in full swing, and well and truly settled into the inspiring chameleonic space that is MPavilion 2017, we're excited to dive into the second month of our season—just as inspiring and varied as the first. Keep an eye on our program for regular updates!
Want more photos? View the full October recap album on the MPavilion Facebook page.