MMusic Bakehouse sessions: Secret rehearsal
Sat 21 Oct 2017, 3.00pm–6.00pm
Free!
2017-10-21 15:00:00
2017-10-21 18:00:00
Australia/Melbourne
Bakehouse sessions: Secret rehearsal
MPavilion
MPAVILION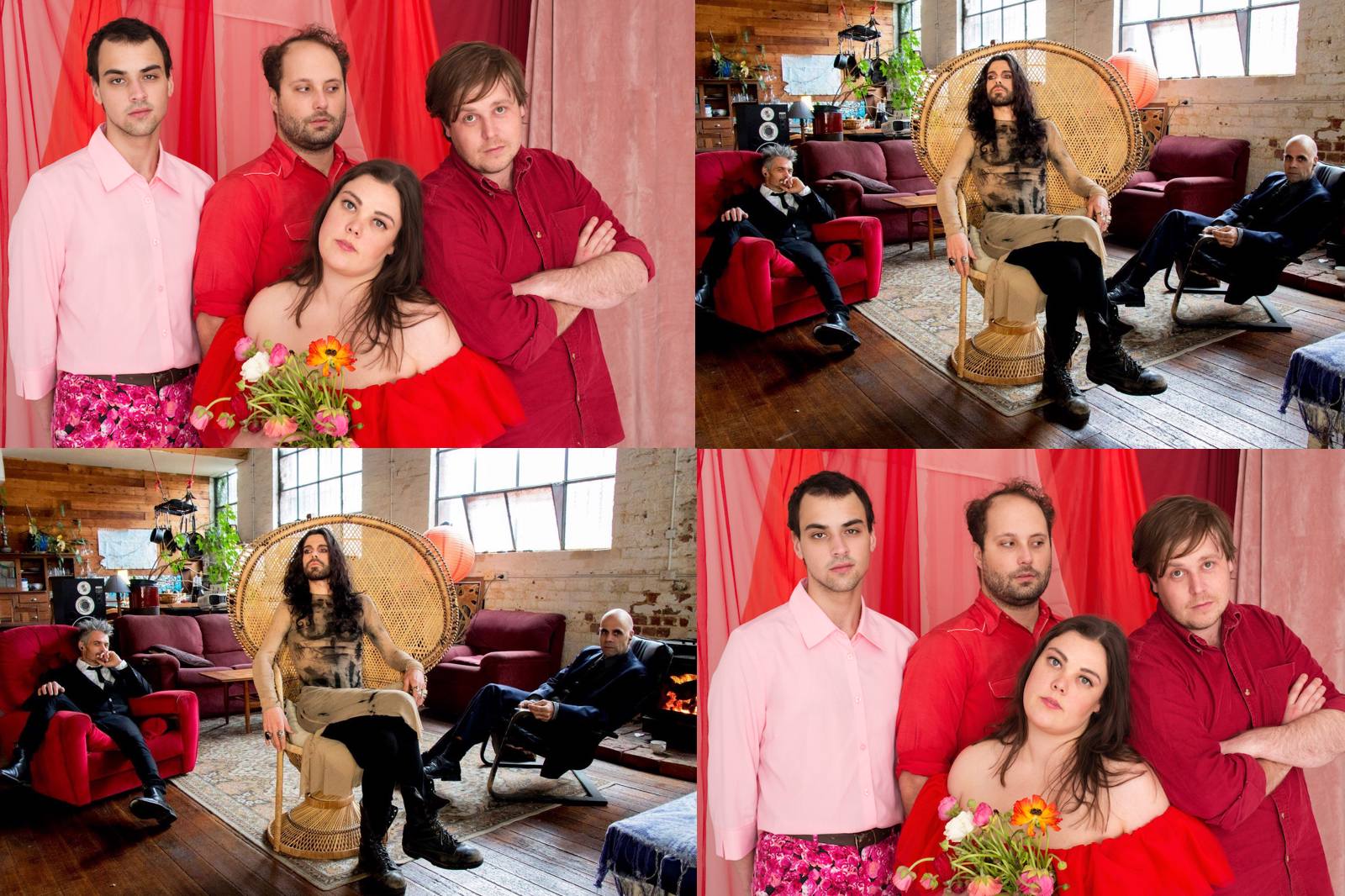 Totally Mild (photo by Mia Mala McDonald) and He Cries Diamonds
Since its humble beginnings down a bluestone lane in North Fitzroy, Bakehouse Studios' award-winning spaces—now located on Hoddle Street—have been at the heart of Melbourne's music scene for over 25 years. Each week, around 400 musicians pass through Bakehouse Studios, from solo artists and kids having their first jams to international touring artists. (Among the names of those who have graced the rehearsal rooms are Australian legends like Missy Higgins, Olivia Newton-John, The Cat Empire, Vance Joy, The Saints and The Drones, not to mention international acts as diverse as Tool, Beck, Ed Sheeran, the MC5, Cat Power, The Smashing Pumpkins and Judas Priest.)
This year, MPavilion is proud to partner with Bakehouse Studios to open up Rem Koolhaas and David Gianotten of OMA's amphitheatre-style structure to some of the most exciting emerging and established musical acts in Bakehouse's little black book. Between October 2017 and February 2018, MPavilion will periodically transform into an extension of Bakehouse's iconic studios, bringing a series of public rehearsals and secret shows to the Queen Victoria Gardens in the heart of Melbourne's CBD. Visitors to MPavilion will be treated to a special behind-the-scenes look at the construction of songs, the pre-production process for a recording or a full-blown dress rehearsal.
Stay tuned for full line-up announcements.
Just announced!
Totally Mild and He Cries Diamonds will be sharing this rehearsal slot, happening directly after MPavilion's Love is Love picnic that same day.
Writing songs that are lush, luxurious and polished to sparkle, Totally Mild—led by the crystal clear tones of vocalist/guitarist and songwriter Elizabeth Mitchell—lets melodies grow, breathe and take shape through lyrical, immaculately considered arrangements.
He Cries Diamonds was formed in 2016 when Agent Cleave, a touring performer with Peaches, and Richard Andrew from Underground Lovers teamed up to blend together their love of theatre and genre-defying guitar music. Fun fact: Richard, who also works as a welder, was part of the construction team that built and installed MPavilion 2017. You won't find a performer more intimately connected to the space this season than Richard!
SET TIMES
3–4pm Totally Mild
4.30–5.30pm He Cries Diamonds
See you in the gardens!
---
Confirmed dates for further Bakehouse sessions are as follows (artists TBA):
Sunday 29 October, 1–4pm
Thursday 2 November, 12–3pm
Saturday 4 November, 12–3pm
Thursday 9 November, 12–3pm
Thursday 16 November, 12–3pm
Thursday 23 November, 12–3pm
Friday 1 December, 12–3pm
Saturday 9 December, 5–8pm
Thursday 14 December, 12–3pm
Tuesday 19 December, 5–8pm
Sunday 7 January, 2–5pm
Thursday 11 January, 5–8pm
Monday 15 January, 12–3pm
Friday 19 January, 2–5pm [Cancelled]
Monday 22 January, 12–3pm
Thursday 25 January, 6–8pm
Wednesday 31 January, 12–3pm


This event is proudly supported by Yamaha Music Australia 

Artist riders at MPavilion are generously supported by the lovely crew at Sample Brew.