Wrap-up gallery: The first week of MPavilion 2017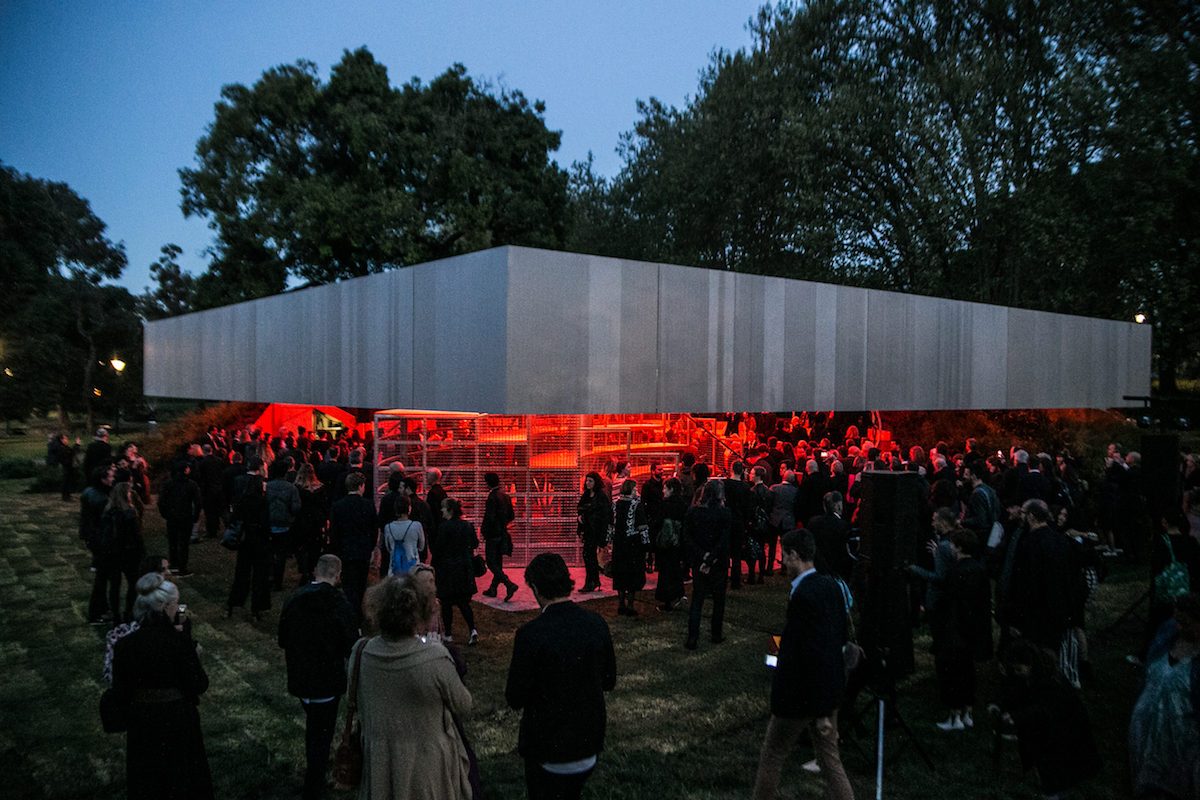 Photo by Bec Capp
From MTalks to dog walks, MMeets to our first MProjects for 2017, MMusic and so much more—here's a choice selection of shots from our opening week.
Introduced by Rem Koolhaas and David Gianotten, and using MPavilion 2017 as a moving stage, our very first event of the season saw Esther Anatolitis leading a panel discussion about public space, featuring Ian McDougall, Naomi Stead, Paola Balla, Patricia Karvelas, Rory Hyde and MPavilion 2017 architects Rem Koolhaas and David Gianotten of OMA.
The crowd explores MPavilion 2017 under lights on our opening night.
MPavilion 2017 architects Rem Koolhaas and David Gianotten of OMA with founder and patron of MPavilion, Naomi Milgrom, and host, leading Australian journalist, author and broadcaster, Virginia Trioli, for our first MTalks 'in conversation' this season.
N'arweet (Elder) Carolyn Briggs joined us on our opening weekend to share stories about the Boon Wurrung people and Country on which MPavilion lies. Carolyn's voice features in this season's morning ritual, a rotating selection of pre-recorded stories. Come and start the day at MPavilion and reflect on country: past, present and future.
Rem Koolhaas's and David Gianotten's talk at Melbourne School of Design filled up in record time—we hosted a live broadcast of the presentation in the Queen Victoria Gardens.
A dog day at MPavilion with Tom + Captain. While some of us were keen on avoiding the sprinklers for the Queen Victoria Gardens' lawns, others saw it as a time for play. (If you missed out, don't worry! We're hosting another dog meet with Tom + Captain on Sunday 22 October.)
Australian artist Philip Brophy brought us Stadium, a quasi-orgiastic celebration of rhythm staged theatrically within the mock pyrotechnica of 'the rock gig'. You can experience more of Philip's work each night—but not quite as live and dynamic as this—in our Twilight Ritual.
Australia's iconic architect Glen Murcutt takes a moment to experience Rem Koolhaas and David Gianotten's MPavilion 2017.
Starting the day in a righteous way with a guided meditation led by A—SPACE. Visit one or all of these free guided meditations each Wednesday in October.
All month long at MPavilion this October, bring your reusable coffee cup for free coffee. Come and meet our Kiosk.
Keep your eyes peeled for more photo updates & full galleries on the MPavilion Facebook page.