MTalks Grandstanding: A reconfigurable future
Tue 3 Oct 2017, 1.00pm–2.00pm
Free!
2017-10-03 13:00:00
2017-10-03 14:00:00
Australia/Melbourne
Grandstanding: A reconfigurable future
MPavilion
MPAVILION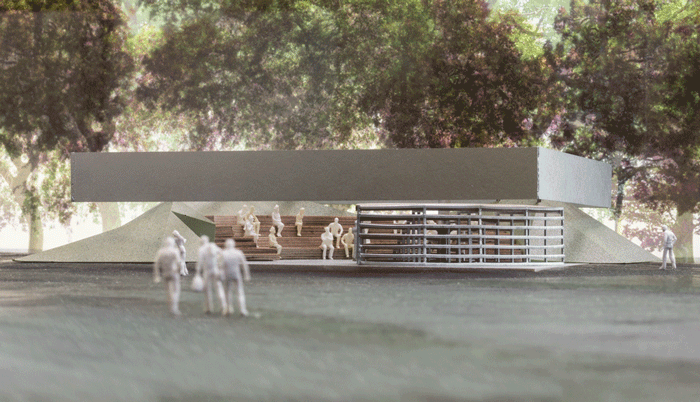 Image courtesy OMA
Which spatial design configuration creates the best future? Let's test it! MPavilion 2017 kicks off this year with a lunchtime event featuring some of Melbourne's most influential architects, cultural leaders and design thinkers as they engage in quick-fire discussion and impassioned debate using this year's configurable, amphitheatre-inspired MPavilion—designed by Rem Koolhaas and David Gianotten of OMA—as a moving stage.
Following Koolhaas and Gianotten's opening address, our speakers—guided by our multi-talented MC, Esther Anatolitis—will contest some of the big questions about our built environment, public space and the world that surrounds it. The audience will participate in active guidance and open judgement as we come together to reconfigure and test the senate, the theatre or the stadium that best generates a meaningful future.
Joining the debate will be Ian McDougall (founding director, ARM Architecture); Naomi Stead (Professor of Architecture, Monash Art Design and Architecture); Rory Hyde (curator of contemporary architecture and urbanism, Victoria and Albert Museum, London); artist, curator and writer Paola Balla; plus prominent senior journalist—and host of RN Drive—Patricia Karvelas.
Intrigued? Come along and be a part of the action!
This event is part of the 'MPavilion 2017 International Program', supported by the Australian Government through the Australian Cultural Diplomacy Grants Program of the Department of Foreign Affairs and Trade.

With thanks to the Australian Institute of Architects and Melbourne School of Design for their support.