…and that's a wrap! MPavilion 2017/18 in photos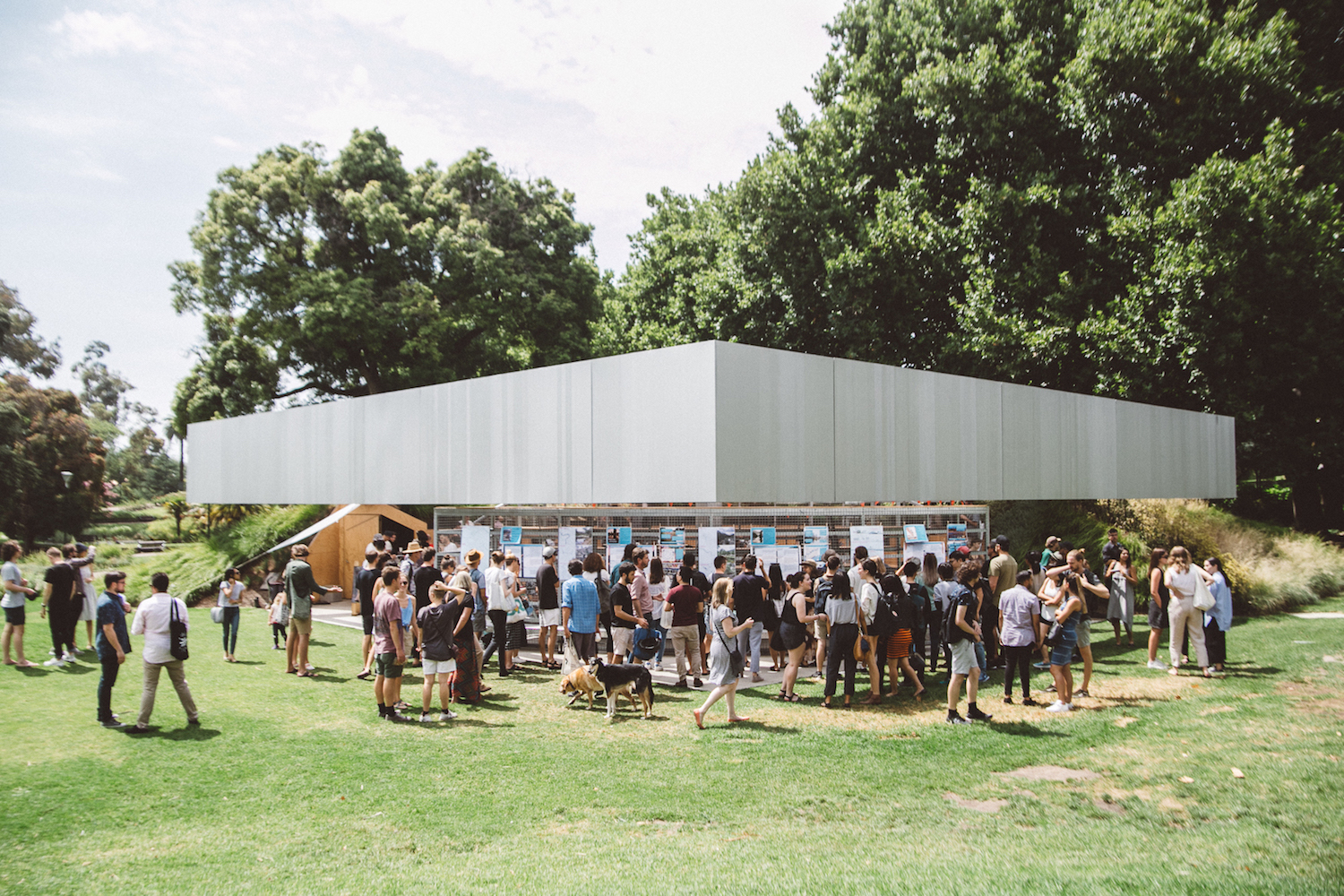 MTalks—Towards a swimmable, liveable Yarra (Birrarung). Photo by Bec Capp
And just like that, we bid farewell another successful season of MPavilion. Closing on Sunday 11 February, this season received an overwhelming public response, with more than 117,000 visitors and 477 events over 133 days. A huge thanks to everyone who helped bring to life this year's MPavilion, designed by Rem Koolhaas and David Gianotten / OMA. If, like us, you love to reminisce—head to our Facebook photo wrap-up to see all our snaps from the season—and don't forget to tag your mates!
Continuing our strong collaborative approach to programming, MPavilion 2017 engaged more than 550 collaborators including cultural institutions, architects, artists, musicians, dancers, choreographers, scientists, designers and built environment practitioners to develop our free, four-month cultural program. This year, we contributed to numerous festivals and public events including Melbourne Festival, Melbourne Music Week, Multicultural Arts Victoria's Mapping Melbourne and more.
We also welcomed a whole host of international guests, including MPavilion 2017 architects Rem Koolhaas and David Gianotten; Zaha Hadid Architects principal Patrik Schumacher; V&A curator of contemporary architecture and urbanism, Rory Hyde; London-based architect and director of the REAL Foundation, Jack Self; London-based designers Saša Štucin and Nicholas Gardner of Soft Baroque; Albanian contemporary artist Anri Sala; and Singaporean artist Sam Lo.
New this year was our inaugural Regional Program, devised in collaboration with Shepparton Art Museum and Geelong Gallery, and led by Indigenous Architecture and Design Victoria (IADV) director Sarah Lynn Rees. The Regional Program brought to MPavilion musical showcases from both regional locations, with the assistance of Multicultural Arts Victoria, and a public talk by Sydney-based artist Keg de Souza, who travelled to Shepparton to create an alternative map of the area based on local knowledge. Keg also appeared at a special offsite MTalks at The Connection in Shepparton, to share the outcomes of her time spent with local communities on Yorta Yorta land as part of the project. Further outcomes from the Regional Program will be shared in the months to come.
Also new this year was MPavilion's inaugural call for proposals, which invited submissions to the program from the public. Highlights included Queer Some Space presented by XYX Lab and The Lifted Brow; Towards a swimmable, liveable Yarra (Birrarung) presented by YarraPools; the A stage for new parenthood meet-up and discussion series, which saw MPavilion 2017 transformed into a space for parents and babies; music in the gardens with Gertrude Opera; a bumper panel discussion entitled Is good design measurable? presented by the Office of the Victorian Government Architect; and a two-part place-making workshop with CoDesign Studio. A total of thirty-five events this season were initiated through the call for proposals, with this figure expected to grow next season.
Want more? Head to our Facebook page to see more photos from MPavilion 2017/18.