Q & A with Bakehouse Studios' Quincy McLean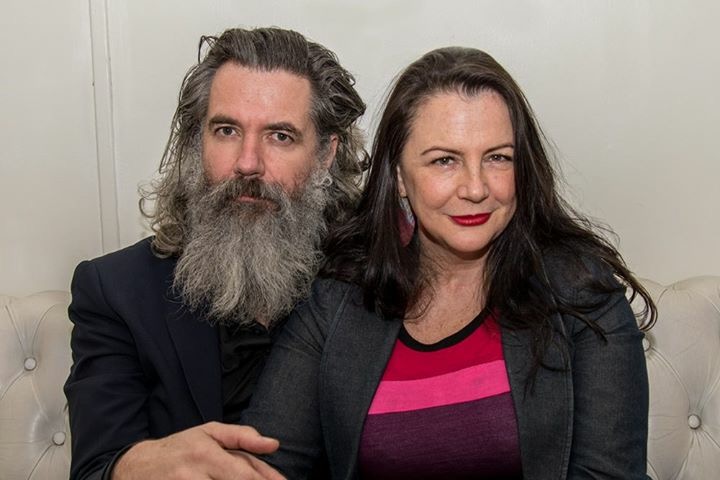 Bakehouse Studios owners Quincy McLean and Helen Marcou. Photo by Kitty Hawk Creative.
Bakehouse Studios is so much more than just a rehearsal space. For more than twenty-five years, Melbourne music legends and international rock royalty alike—from The Saints to MC5—have passed through Bakehouse's labyrinthine corridors in Richmond to rehearse, write songs, record, shoot film clips and even paint the studio walls as part of the Bakehouse Art Project, initiated in 2014.
For MPavilion 2017, we've partnered with Bakehouse Studios co-founders Quincy McLean and Helen Marcou to open up Rem Koolhaas and David Gianotten of OMA's amphitheatre-style structure to some of the most exciting emerging and established musical acts in Bakehouse's little black book. In the Bakehouse Sessions: Secret rehearsals series, MPavilion will periodically transform into an extension of the iconic Bakehouse Studios, bringing a series of public rehearsals and secret shows to the Queen Victoria Gardens. We caught up with Quincy McLean to pick his brain about Bakehouse's plans for the space.
---
MPavilion: Bakehouse Studios has grown to become an integral part of Melbourne's music scene. When you first started out, did you have any idea the project—which started small—would develop into the legendary Bakehouse we know today?
Quincy McLean: We started Bakehouse in 1991—I was looking for somewhere for my band to rehearse and stumbled across the old York street studio (originally set up by David 'Daffy' Williams in about 1977), which had pretty much been gutted in the late 1980s. We took it over and started the slow process of renovating and restoring some of the original 1970s features. Our initial intention was to set up a rehearsal space that I could make basic recordings in, with no intention of setting up an arts hub. We brought in other bands to help cover the rent and generate enough money to add to the escalating costs of the required restoration. Almost immediately on seeing the place, we decided we couldn't let the opportunity slide of turning it back into a recording studio.
On that day, in August 1991, I had no idea we would expand out into a space catering to recording, showcases, filming, visual arts, theatre, classical, jazz, workshops and so much more. We had no political or activist leanings—I just wanted to make music and facilitate whatever else was required for my works. Everything was driven by responding to challenges in the environment and a basic need for survival, rather than any overarching ambition.
What's your favourite Bakehouse memory? 
We've had some wonderful Christmas parties over the years, featuring great local bands that have gone on to achieve strong followings and significant creative outputs.
My personal favourite fanboy moments are:
When the original line-up of The Saints reformed for All Tomorrow's Parties festival and chose to have their first rehearsals outside of Brisbane in over 30 years in our 'Elvis' room. We also had The Bad Seeds, The Dirty Three, Rowland S. Howard, Grinder Man, Bill Callahan with Smog, and Primitive Calculators in the studio gearing up for that festival. They were heady times!
Original founding member of the Velvet Underground, John Cale—a hero of mine—ahead of the first Supersense Festival.
Rolling out the red carpet for MC5 when they visited Bakehouse for rehearsals in 2004.
One we missed was Elvis Costello in the Scrap Museum—we were in New Zealand at the time, so our staff had to do the honours.
The ones that got away—The Rolling Stones—blew out when Mick 'lost his voice' (or as rumoured, the 70-year-old was actually out partying until 5am… they also blew out their Hanging Rock show).
You and Helen Marcou are also co-founders of activist group SLAM (Save Live Australia's Music), and have been instrumental in placing live music on the political agenda in Melbourne and elsewhere. How important to you is activism within your industry?
I wish it wasn't important at all—activism is only relevant where there is an impending threat. I'm sure we'd all much rather get on with making and facilitating art rather than fighting for its survival. Unfortunately, our sector has been hit hard with numerous threats over recent years, including: liquor licensing laws that equated the practice of live music with alcohol fuelled violence; rising land prices and poor planning laws, which have seen live music venues that have existed for decades suddenly fall out of EPA compliance due to encroaching development; and a rise in the reportage of incidents of sexual harassment in live music venues, which provoked Helen's call for a government taskforce established to create policy for safe and inclusive spaces in the music sector.
This year, MPavilion is being opened up as a satellite 'secret rehearsal' space for Bakehouse Studios artists. What can visitors expect from your collaboration with MPavilion?
At MPavilion we're turning Bakehouse inside-out, with bands rehearsing in front of an audience. Some will be young up-and-comers brushing up their sets, while others will be established touring bands presenting a full-blown dress rehearsal or warm-up show. In the spirit of secrecy, these rehearsals will not be promoted at all and will only be leaked by name a day or two prior to the rehearsal. We see this as a real opportunity for the public to play 'lucky dip' with some of the greatest artists Melbourne, Australia and even the world has to offer. Keep your eye on the MPavilion program and the 'Bakehouse Sessions: Secret rehearsal' Facebook event for updates as they happen.
You're also presenting a continuation of your WHY PUNK? series during Melbourne Music Week at MPavilion. Tell us about your plans for the WHY PUNK? spoken memoir event at MPavilion.
Our MPavilion edition of WHY PUNK? will be taking the form of 'punk' bedtime stories. As kids, my sisters and I had a great aunt who would come to visit in her orthopaedic shoes and fur stoles, and who would tell us bedtime stories of her travels to exotic places, of mouse plagues, of near-miss romances, and even of an extended hospital stay where black toxins were drained from her innards into a pan so pungent that the doctor had to buy her a massive bottle of eau de cologne to mask the stench. She would also recite ridiculous old English poems and songs—it was better than TV, and in the mornings we'd all crawl back into her bed for more stories of gruesomeness and romance.
That's what we'd like WHY PUNK to be this time round: the stories we couldn't fit into a forum format, comprising all the excitement and drama of the birth of the Melbourne chapter of punk, told by those who were there—not an academic analysis. We're keen to dispel the lie that punk in Melbourne was ever really about safety pins, mohawks and bondage pants. Rather, it was a gathering of like-minded free thinkers and outcasts who were rejected because they liked art too much, didn't play sport, had a face full of pimples, liked spending time in the library, loved the expression of words spat out over three chords from a dirty guitar, or were just too wracked by inhibition to dance to disco, too self-conscious, or too cynical for the long hair and dungeons and dragons that metal had become known for. Come along to hear it for yourself.
Find out everything you need to know about the 'Bakehouse Sessions: Secret rehearsal' series at MPavilion here, and about 'Why Punk? 1977–1981: A spoken memoir' here.