Q & A with Tin&Ed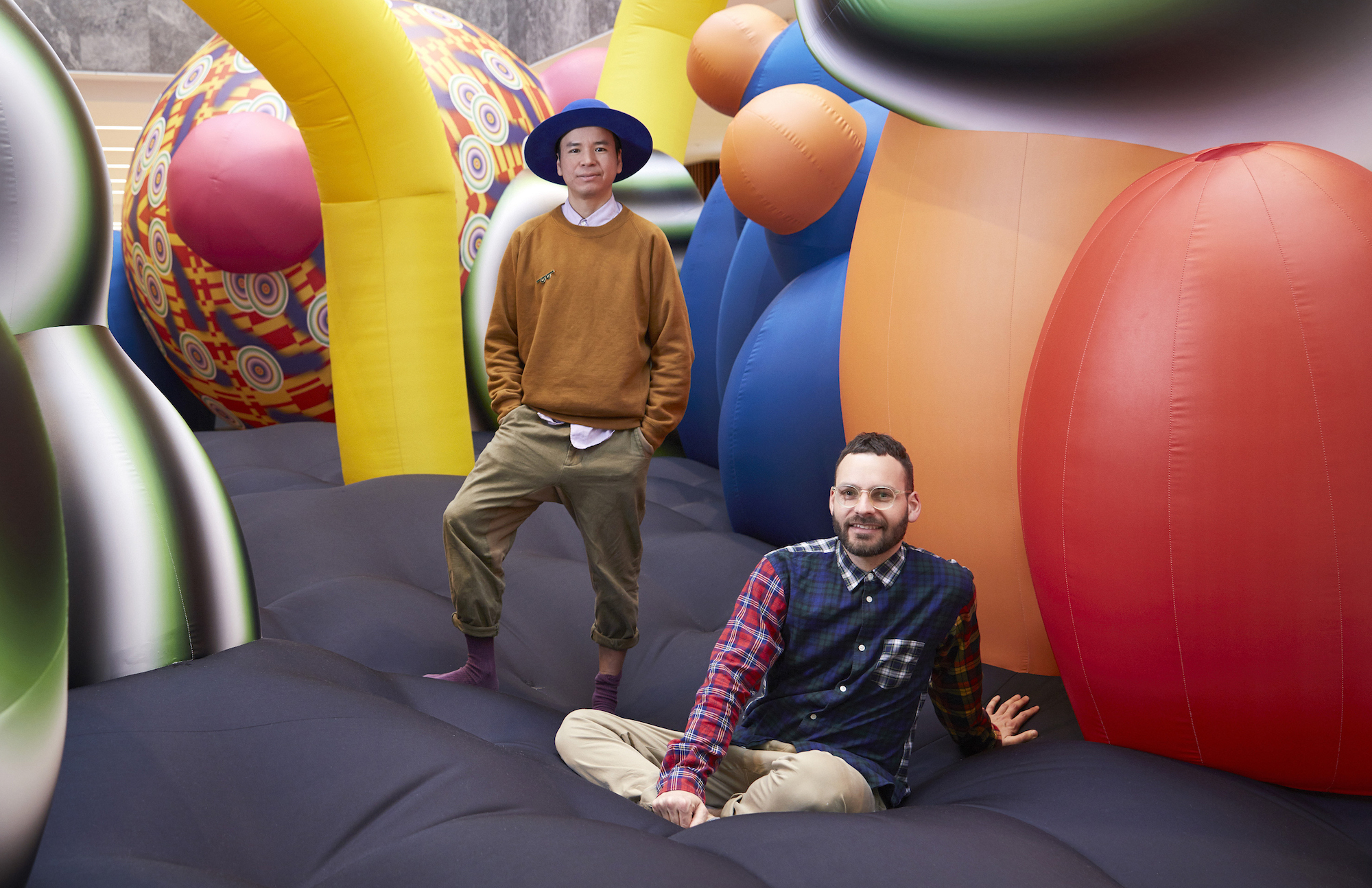 Tin&Ed. Photo by Sean Fennessey
We love Tin&Ed. During MPavilion 2015, the creative pair led an experimental gift-making workshop and a plant-play session with Cecilia Fox—just two examples of their penchant for blurring the lines between play, design and art. Led by curiosity and collaboration, there's a sense of fun and optimism imbued in every project of of the New York-via-Melbourne duo, whose varied practice mixes experimental projects with client commissions across all manner of media.
In January 2018, Tin&Ed return to MPavilion—and you're invited to bounce on down to the Queen Victoria Gardens to experience a site-specific version of their installation Inflatable Futures, originally commissioned by QICGRE for Eastland. Combining the joy of bouncy castles with aesthetically beguiling sculptural forms, it's an MPavilion intervention that encourages kids to leap into the unknown and use play as a way to engage with ideas of space, technology and the future. We caught up with Tin&Ed (a.k.a. Tin Nguyen and Ed Cutting) to hear all about it.
---
MPavilion: From graphic design, photography and illustration to sensory restaurants and inflatable sculptures, your work is wide-ranging, to say the least! What is the common thread you look for in each project you take on? 
Tin&Ed: We believe the world is an incredible, interesting, chaotic, fun and a totally unexpected place. This is what excites us about the world, and we like to celebrate and share this through our work. We are total nerds and love anything to do with science, space, nature and technology. Any opportunity to explore these ideas and connect people to the world and the universe around us is what we look for in a project.
You're currently based between Melbourne and New York. How do you divide your time between the two, and what does each city bring to your practice?
We've been based in Chinatown in Melbourne for a while, and have recently set up shop in Chinatown in New York. So far it's been relatively easy working between the two countries. A lot of our work in Australia is in Sydney, so we're used to working remotely. Over the years we've cultivated the sort of work that has allowed us to be pretty portable. It's great as it allows us to work from pretty much anywhere, and it also means that we have to work everywhere! We also love to travel, so it's really not too difficult to hop on a plane and go where we need to for work. For us, New York is a gateway for the rest of the world—since setting up in New York, we've travelled to Paris, Shanghai, Singapore and Bali.
Australia has been an amazing place to grow up, live and develop our practice, and the creative and social support we've had has been incredible. Melbourne has a creative community and culture that is really unique. We are still new to New York, but already we can see incredible opportunities to grow creatively and commercially.
Early January at MPavilion presents a celebration of play, for both the young and the young-at-heart. How important is the concept of 'play' to your work?
Play is central to our work—for us there is no difference between work and play. We believe that play has the power to solve problems, educate and innovate. Our work encourages everyone, young and old, to be more playful in their work and in their life.
The Inflatable Futures installation was originally commissioned by QICGRE for Eastland. What can we expect to see in the MPavilion iteration?
For MPavilion we will be presenting three inflatable sculptures, with each sculpture inspired by an idea of space and technology and presenting a potential vision of what is possible in the near and distant future.
The first sculpture explores the idea of a wormhole. A wormhole is a tunnel through space and time, and by travelling through a wormhole you may be able to travel millions of lightyears almost instantly. The form of the wormhole plays on the form of a nudibranch, which is a type of soft-bodied, marine mollusc or 'sea worm'.
The second sculpture, an 'alien visitor', is inspired by the idea that we are not alone in the universe—that there is the potential for intelligent life out there. The sentiment for this one is about being open to things that we don't know, and to treat all beings, whether extra-terrestrial or here on earth with love and respect.
There will also be a sound-based inflatable containing a cosmic soundscape mix by GLOVES. The whole experience will be connected through a publication written and illustrated by us, with games and missions to encourage kids to embrace the unknown as well as engage with these ideas in space, technology and the future.
What's next on the horizon for Tin&Ed?
We just took part in an exhibition in Shanghai presenting a live projection work using generative design software. We want to continue to create work which connects people to the world and universe around them and to explore how design and technology can help us do that.
Tin&Ed's 'Inflatable futures' lands at MPavilion from outer space on Monday 8 January, running until Sunday 14 January. Come down and play between 9am and 4pm daily!